MEDIEVAL ANIMALS HERITAGE TRIP
This was our first event with families with special needs children. Nineteen children (eleven families) were booked in but two families had to drop out on the day (one for possible measles and one child for fear of lightning).
Following a walkthrough with Ada and Langan at Wildwood, we then invited families through SNAAP and FB. ​
We sent letterbox-sized giftboxes to children who would be attending so that they could look forward to the day and be less nervous about going somewhere new. ​
The giftboxes included a friendly letter, heritage stickers, coloured card, and a Wildwood leaflet and Covid-safe one-way map, all on recycled and recyclable paper) plus coloured chalks
Photo Credits
Giftbox sample, example of sticker, photo credit DEH. ​
Disc brooch, found in Faversham, photo credit British Museum​
Wildwood Covid-safe one-way route map, credit Wildwood Trust​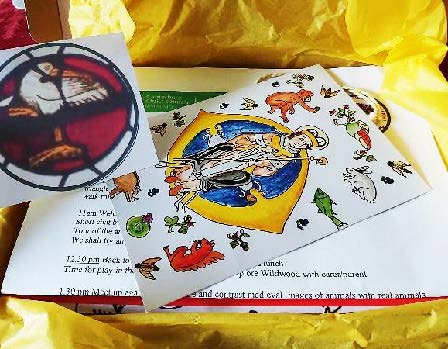 Pinemartens, Soay sheep, and a sleepy bear – we also saw Arctic foxes, choughs, red deer – and wolves.​
Photo Credits
Wolf, photo credit Wildwood Trust
BibliothèqueMunicipale de Chalon-sur-Saône, MS 14, Folio 85v
A wolf, trying to silently approach the sheep, bites its own foot for making noise
This glade was where the sun came out and everyone was relaxed and happy.
Photo Credits
Welcome, and Families' group, photo credit LB. ​
Tour x 9, photo credit volunteer MB​
Badge making, shell designs, saltdough​
Lunches in brown paper bags for everyone.​
Our volunteers helped with the various activities after lunch. Children played and parents chatted.
Photo Credits
Badges, and Penny, Langan and volunteers and families, photos credit DEH. ​
Activities x 9, photo credit volunteer MB ​
Penny spoke on medieval Reynard the Fox, Diane showed images from medieval bestiaries about the Wolf, Lynx and Fox, and Langan talked about scientific knowledge of Fox behaviours.​
Our terrific volunteers helped throughout the day, making everyone feel welcome.​
Photo Credits
Penny, Langan and volunteers and families, photo credit DEH. ​
Maastricht Hours, British Library, Stowe MS 17, Folio 84r: A fox dressed up as a preacher talks to farm birds. This was probably a satire on preachers who took advantage of their congregations.​