Friends may have seen the Centre for Kent History and Heritage blog in September where we gave details of a new Lottery Heritage Fund grant that we have received for a project on Medieval Animals Heritage in our local area. The news has meant a very exciting and busy start to the new academic year for the Centre because we have a great deal to do in the next two years. Naturally, Friends of the Cathedral will, we hope, be very much involved in this project. Do please support us, more on how to get in touch about various mini projects appears at the end of the article. In case you are wondering why our logo features a hedgehog, it is because medieval hedgehogs were considered heretics as they stole grapes from the Lord's vineyard on their prickles to feed their hoglets.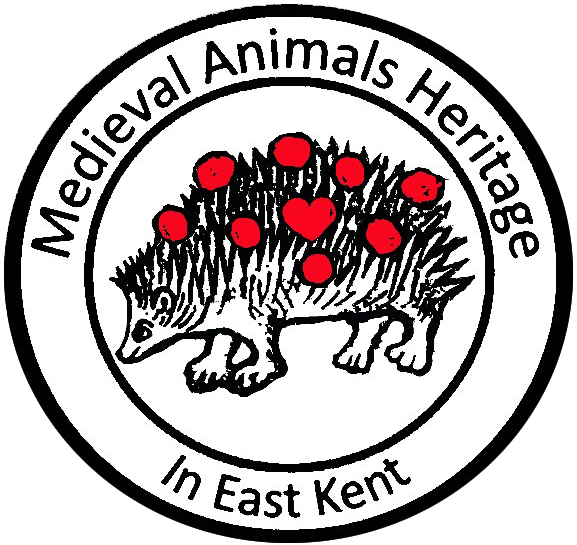 In a nutshell, this Medieval Animals Heritage project is about bringing an important but little-known aspect of our Kent and Canterbury heritage to the attention of local people, including families and schoolchildren, and helping everyone to enjoy it. There are a host of events, exhibitions, and activities planned – for people aged from 2 to 102. Animal traits were written about in the Middle Ages in books called bestiaries and these bestiaries were used locally by St Anselm and his disciple, Honorius Augustodunensis, in a form of medieval outreach to Kent laypeople that focused on nature and spirituality. Indeed, Honorius wrote his Speculum Ecclesiae (Mirror of the Church) specifically at the request of the monks of Canterbury Christ Church Priory so that they might beautify their newly enlarged cathedral, he said he had 'painted a new picture' for them 'novam depinxi tabellam' (Migne, Patrologia Latina (1854), v. 172, 814D).
Besides being about local medieval animals heritage, the project is also about newer concerns, for example, wellbeing, ecology, and sustainability, things we are all concerned about these days. Think of our logo and mascot, nicknamed Harriet, as a very friendly green hedgehog.
We have held three events in September. Allow us to brief you on them, as they will demonstrate something of what we hope to achieve for the project as a whole. Our first event was a stand at Canterbury Christ Church University Welcome Day. We signed up some 80 students who expressed interested in the project. The stand included a Hedgehog Badge making kit and an area for making shell keepsakes as a happy memory of the start of term, and for many students, the start of their university life. Wellbeing is an important aspect of the project for families, children, and volunteers – as is sustainability so the oyster shells were pre-used in catering, and embellished with some gems from a previous project, cotton string, and written on, rather than using extra labels. Even our pop-up banner is made from wood. Oyster shells have a particular local resonance having been farmed along the Kent (and Essex) Thames estuary, e.g., at Faversham, since before the Romans arrived. Medieval oysters were believed to make their pearls from starlight, moonlight, and sunbeams, in other words they opened to receive a heavenly gift and were likened to the Virgin Mary's womb.
The second event was the very next day – filming Masterclasses in Canterbury Christ Church University's Wellbeing Garden. For this part of the project, we were very happy to work with Paul McGranaghan, an alumnus of Canterbury Christ Church University Film Studies, who kindly allowed one of our volunteers with film experience to be second camera operator. The three short films, featuring the Project Lead, Diane, Project Manager, Penny, and Langan Turner from Wildwood Trust will be edited and hosted on the Medieval Animals website which is being put together now. We must mention our fabulous lunches from Kitch on Canterbury High Street, as the project is very happy to work with local small businesses (and Monika's cakes are absolutely delicious). In the same vein we have bought Hop pickers' tipple, the green ale made from hops grown on the University's campus and brewed by a Canterbury brewery to serve at future project receptions.
As you can see from the stills and the shot of the filming equipment, the Wellbeing Garden is a haven of green biodiversity with a pond and bullrushes, trees, and a herb garden, the sunlit space was full of butterflies and birdsong.
The photograph on the right, is of a site many members will recognise, the ruins of Lanfranc's eleventh-century dormitory, now a herb garden, in the precincts of Canterbury Cathedral. It was here we took some of our students for a heritage trip after the masterclasses. They were particularly impressed by the sense of tranquillity and goodness found in this quiet space. There is a famous medieval illustrated Herbal, now in the British Library (Cotton Vitellius C III, photograph left of fol. 30) that may have come from Canterbury, written in Old English in the early eleventh century with stylized depictions of plants, some of which are now growing in the herb garden such as the teazle, called Wulfes camb (wolfscomb) or Dipsacus silvestris). This Herbal also contains images of animals, especially snakes, associated with certain plants such as basil. The heritage sites, plantings, medieval herbals, and bestiaries allow us to put together a project that emphasises green heritage and eco-history, another key strand for this project on Medieval Animals heritage. It was therefore a particular pleasure that we were cordially invited to enter the Huguenot Church during our heritage trip. This beautiful chapel was previously the Black Prince's chantry and some of the fourteenth-century decorated bosses depict bestiary tropes, including the Pelican in her piety reviving her chicks. On the south Transept, Langan was delighted to spot a Boar on the exterior arcading, since wild boar are a feature of Wildwood Trust.
Our third event was the Ash Heritage Centre Tenth Anniversary Celebration on 26th September, held at Ash Village Hall. This lovely village event gave us the chance to practice some of the heritage learning activities for children of varying ages. For the youngest it was a chance to make salt-dough animals (a sensory activity also suited to children on the autistic spectrum). Penny had painted some examples including bees, dragons, and a hedgehog. We also provided our popular badge-making and decorated shells. These were sturdy scallop shells, symbols of medieval pilgrimage as well as links to our Kentish coast. Another activity was cardboard shield painting based on examples of canting animal heraldry in the Dering Roll (British Library Add. 77720, c. 1270-1280). The Roll of shields of Kent and Sussex families was possibly made for the Constable of Dover Castle, Stephen of Pencester. Examples of animal allusions include Nicholas le Lou's shield with two wolves (Old French 'lou' means wolf) and Henry de Herice whose shield bore three hedgehogs as 'herice' was Old French for hedgehog. One teenager drew a shield featuring bees and a two-year-old painted a wonderful blue dragon with a red tongue.
These activities demonstrate that children of every age can learn about heritage if the activity is carefully prepared. Colouring in sheets were used to provide a relaxing activity – one design was of the Bonnacon (a mythical Ox with the peculiar superpower of emitting projectile excrement, a rather earthy medieval humour that children enjoy too). There is a medieval wall painting in Longthorpe Tower, near Peterborough, that depicts the Bonnacon, implying soldiers living there liked the animal. One insightful child at Ash remarked, 'Well of course they liked it. Soldiers would want people to think twice about creeping up and attacking them.'
We gave our first expert 'Talking Medieval Animals' Lecture as part of the Canterbury Festival in October. At the end of the same month, we are holding the first of our events for families with special needs children – a day out at Wildwood Trust with a zoo trek, lunch, animal art, and finishing with a storytelling session with hot chocolate and gingerbread. We hope to set up the Beastly Latin and 'ArcHive' research projects in November and go on a Twilight Wildwood Expedition with older children (10+) in December.
Here are the aspects of the project where we should really appreciate the help and support of the Friends.
The earliest Latin prose bestiary (the one St Anselm and Honorius used) has never been translated. We want to set up Beastly Latin Zoom classes (probably with extra live sessions down the pub or café) for people interested in dusting off their rusty Latin or learning Latin or enhancing the translations to appeal as stories for children, especially children with special needs. We have a taster chapter lined up for you to try.
For those expert Latinists we have even more of a challenge – the Speculum Ecclesiae has also never been translated – a hundred thousand words in Latin rhyming couplets – we are suggesting a single manuscript translation of Oxford Bodleian Library Lyell MS 56. This not as easy as the bestiary Latin as it is in rhyme and very much longer.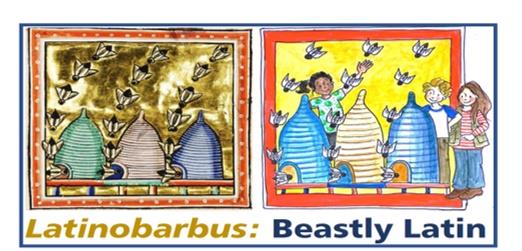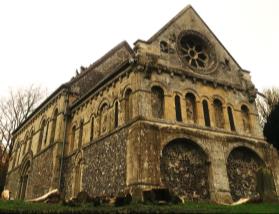 The Medieval Animals in Churches Green ride and Stride Guide is for people who can make green journeys to their local Church or churches – either walking footpaths, perhaps using 'Slowways.uk' routes, or going by public transport, or car-sharing and mapping and snapping the medieval creatures in the stones, the glass, and the wall-painting of our local wonderful medieval churches, like Barfrestone. Then we shall craft I-Spy Beast challenges for families to enjoy when they visit the churches.
ArcHive Research for our website is something we know the Friends would be expert in very quickly. We want our website (MedievalAnimals.org) to house links to medieval bestiaries and other resources on Medieval Animals at our national libraries, local archives – even international archives, as a hub for research that emphasises the local connections and gives access to medieval illustrations and manuscripts, standing archaeology, including stone reliefs, stained glass, and misericords, and material culture (such as the Bayeux Tapestry). Each fortnight our translators will bring a chapter of the Bestiary to life. The website will then host the chapter with the subject being the host – e.g., the Lion, telling bad (clean) jokes and bringing the nature of the animals to life.
There's more – we plan three exhibitions and a conference, we need researchers to source key exhibits, write catalogues and captions that make the items interesting and accessible. Do please come and help us and join us for fortnightly afternoon tea and planning at the Centre for Kent History & Heritage. This project is different, fun, kind, and full of hope for our future. We would love your company.
Please contact Dr Diane Heath if you would like to contribute by email diane.heath@canterbury.ac.uk or by letter to Centre for Kent History & Heritage, Canterbury Christ Church University, Fynden House FYf04, North Holmes Road, Canterbury CT1 1QU, thank you.